BMW Body Parts and BMW LTW Wings for E36 and E46
| Porsche 911, 993, 996 Product Info | Porsche Boxster Info | BMW Body Parts Product Info |
| Lexan Racing Glass
|
---
At MAShaw, we have BMW Body Parts and BMW LTW Wings for your E36 and E46. Take a look at a few of the examples below:
NEW HARDENED LEXAN RACE GLASS
Resists vigorous rubbing with steel wool;
Highly scratch and chemical resistant
No special cleaners or polishes needed; Can be cleaned with standard cleaners;
The best in optical clarity
50% lighter than glass
MANUFACTURED TO AEROSPACE QUALITY STANDARDS AS9100B; 2004
Lexan Race Glass for E-46, E36 and E30
Front Windshield $450.00
Rear 1/4 Windows 1/8" $225.00 a pair
Rear Window 1/8" formed $355.00
Rear Window 3/16" formed $400.00
Door Window 1/8" $300.00
We carry aircraft quality Lexan windows for E46, E36 and E30 and M3. Quality, hard coated and formed Lexan. Designed tooling and trimmed to the exact size of window.
---
BMW E-46 and E-46 CSL Trunk Lids (The E-46 trunk lid the left & the E-46 CSL trunk lid on the right - click image for larger pic)
Perfect fit and complete trunk lids ready for paint and wiring. Notice the superior quality on the inner lid pictures. These are NOT the cheap knock-offs you see elswhere. These are MASHAW originals - Hand Made in the USA.
Call for special introductory pricing!


---
E-36 / E-46 / E-92 Doors
Compression molded; full doors, not just shells! Bolts to factory hinges, utilizes factory door handles
Weighs 10 lbs
Only $1,075.00 pair
New E-92 doors $1,175.00 a pair
We also, make E-36 4 Door

---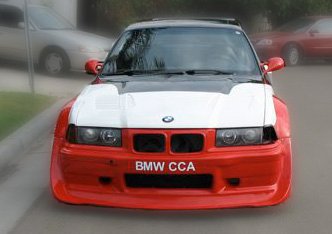 BMW E-36 PTG Style wide body;
Kit includes M-3 front bumper with splitter; Front fenders; rockers; rear
quarter panels and rear bumper.;
Price is only $2,000.00



(Read what others think about MASHAW quality in the Bimmer Forums

here

)
---
E-46, E-36 & E-30 Hood:
Bolts on to Factory Hinges and Front Latches, compression molded composite, proprietary urethane core.

Fits perfect
Weighs 12 lbs

Only $ 800.00


E-39 M5 Hood in Carbon Fiber:

New in stock
Weighs 18 lbs
Only $ 1,350.00

New Carbon Fiber E-36 GTR Hood:

Bolts on to Factory Hinges and Front Latches, compression molded composite, proprietary urethane core.

Fits perfect
Weighs 12 lbs

Only $ 1,250.00

---

E46 & E36 Rear Deck Lid
Bolts on to factory hardware

Fits perfect
Weighs 12 lbs

Only $ 650.00

Also avaialble: E46 CSL Trunk - new, no pic yet
EXACT to ORIGINAL FACTORY SPECS.(call for special pricing)

---

M-3
Lightweight rear spoiler, factory quality with removable extension blocks

Fits great !

Only $ 750.00

---

BMW E-30 M-3 EVO rear spoiler in FRP from $725.00
In Carbon Fiber $875.00.




---


E-46 CSL front bumper. Price $750.00.

New 2001 M-3 E-46 Front Bumpers for the E-36

Fits 1992-1999 E-36;

Includes 55 Watt Fog light kit and grille screens;

Weighs 10 lbs
$725.00 Sale Price $650.00



---

New E-46 M-3 front spoiler in carbon fiber

Carbon fiber front spoiler includes hardware kit for installation;
Only $950.00

Lower Carbon fiber splitters
only $300.00;
Spoiler and Splitter $1,250.00 Sale Price $850.00

Looks great as the entire spoiler is carbon fiber; fits well

---

M-3 EVO PTG Style; Adjustable Pitch Rear Spoiler:
T-6 Harden Aluminum pitch adjustment hardware for strength and durability: Designed for the track, or guys who drive real fast???
Ours is an EXACT copy of ORIGINAL FACTORY RACE PTG spoiler.
Only $850.00


---
All of our parts are constructed in compression molds for superior strength and durability here in the USA. There are no ripples--no warping.
---
| Porsche 911, 993, 996 Product Info | Porsche Boxster Info | BMW Product Info |
| BMW Catalog Download |
| Return to Main Menu | Contact US |
Contact Information:
13951 Gershon Place
Santa Ana, Cal. 92705
Phone: (714) 423-7429
FAX: (714) 838-6847
Email US
---
Copyright ©1995-2020 by AUTOPEDIA, all rights reserved. AUTOPEDIA™, AUTO411™, CAR-IQ™, DEALERPEDIA™, UNILOT™, SIMULSEARCH™ and INTERQUOTE-RFP™ are trademarks of AUTOPEDIA. All other trademarks, tradenames and/or service marks are the property of their respective holders. Although all information and prices contained herein are obtained from sources deemed to be reliable, AUTOPEDIA assumes no responsibility for the accuracy of the information and no liability for any errors and/or omissions. All information is subject to change without notice.